07.06.12 - Welcome to My Website
Hi, and welcome to my website.
It will be used to showcase much of my work as well as keeping friends and fans up-to-date with some of my latest work and upcoming exhibitions.
Please have a look around and feel free to make comment. I welcome any constructive feedback.
My New Portrait Demonstration DVD  November 2017
Official trailer for DVD from www.townhousefilms.co.uk                    Recorded June 2012
My New Book, Painting Self-Portraits, a joint effort with my twin brother Paul, is now available!
http://www.crowood.com/details.asp?isbn=9781785000492&t=Painting-Self-Portraits
http://www.amazon.co.uk/gp/product/1785000497?keywords=self%20portraits&qid=1447783963&ref_=sr_1_cc_4&s=aps&sr=1-4-catcorr
The publishers Crowood Press, as well as Amazon UK, can post the book to anyone, across the globe, who might wish to purchase it.
Portrait Demonstration DVD  October 2012
Recorded July 2012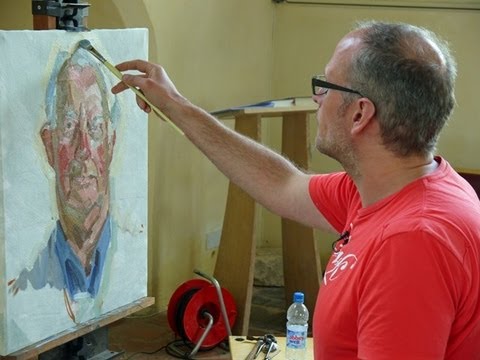 Official trailer for DVD from www.townhousefilms.co.uk
Also available from Amazon.com
Portrait Demonstration
Italy  September 2012
Painting
Portrait Demonstration
Italy  April 2014
Tutor for Heatherley School of Fine Art 2011